Is Bingo only for the retirement home? Blueprint Gaming doesn't think so and that's why they created the Jackpot King Prize Lines slot!
In Jackpot King Prize Lines, Blueprint Gaming has lived up to this image by putting no less than 2 of their successful mechanisms in the game: the Jackpot King mechanism and the Prize Line mechanism.
Whether that is a successful combination, we will find out in this review.
Theme and storyline of Jackpot King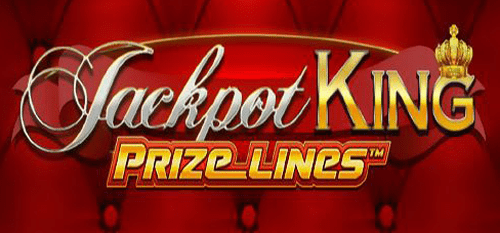 With Jackpot King Prize Lines you will be completely immersed in luxury. A dark red leather-covered wall stands behind the gold game board.
The design completely gives you the feeling that you are in a luxury casino. And the uptempo music in the background brings enough tension and sensation! You would almost think you are on a game show on television.
The playing field is very different from what we normally see with slots and because of the Prize Lines mechanism, the game also works very differently. The playing field is actually more like a bingo card with 5×5 blocks.
There are also only two basic symbols: the red gems and the gold crowns. You can also call the gems dead symbols because they do nothing and are worth nothing.
What you do want to see on the playing field are the golden crowns! We will tell you under the features section how the Prize Lines mechanism and therefore also this slot machine work.
RTP, Bet, and Variance
The base RTP of Jackpot King Prize Lines is 95%. This is slightly below average, but that is not unusual for jackpot slots.
You can bet from 20 cents per round to 10 euros per spin and there are several options to set a limit for yourself here.
These options are very useful with this slot machine since you can go beyond your limits quite quickly out of enthusiasm. The variance of payouts is estimated at average in Jackpot King Prize Lines.
Features
Jackpot King Prize Lines is an original game in terms of gameplay and features. As mentioned, Jackpot King Prize Lines has received 2 unique mechanisms from developer Blueprint Gaming.
But in addition to the Jackpot King and Prize Lines mechanisms, this slot machine also has a Gold Coin Pick Me bonus game and a Wheel King bonus game.
Prize Lines of Jackpot King
The Prize Lines mechanism is actually a kind of bingo slot machine in which you save golden crowns and fill rows with them.
The spins also work a little differently than usual. You first choose a bet and then you get a round of 5 spins.
During these spins, you have to get crowns on the playing field. When these land on the playing field, they stick until the end of the round.
After the round of 5 spins, you will be paid according to the number of full 'bingo' lines you have. These lines can be horizontal, vertical, and diagonal. The more lines you fill, the higher the price you can expect:
1 line gives 0.2x your stake.
2 lines give 0.5x your bet.
3 lines give 1x your bet.
4 lines give 2x your bet.
5 lines give 3x your bet.
6 lines give 4x your bet.
7 lines give 5x your bet.
8 lines give 10x your bet.
9 lines give 15x your bet.
10 lines give 20x your bet.
After those 5 spins, you can also choose to continue by buying extra spins. The crowns that you have already collected will remain to stand and so you can get even more.
But beware, the costs to buy extra spins get higher and higher the more crowns you have won. You can always see how much such an extra spin costs in the bottom right corner of your screen.
Jackpot King
Jackpot King Prize Lines is part of the larger Jackpot King network and therefore has the jackpots that go with it.
These jackpots consist of the Royal Pot, the Regal Pot, and the Jackpot King progressive jackpots. The values ​​of these jackpots can be found on the left side of the playing field.
The prices can be quite high, causing the tension to rise quickly while playing.
Gold Coin Pick Me Bonus Game
In addition to the gold crowns and the red gems, a gold coin can also land on the playing field. This special symbol gives you the choice of 4 different objects: a sphere, a ring, a scepter, and a chalice.
When you have chosen 1 of these, it will give one of the following modifications:
1, 2, or 3 extra spins
1, 2, or 3 extra crowns
Instant access to the Wheel King bonus game
Wheel King bonus game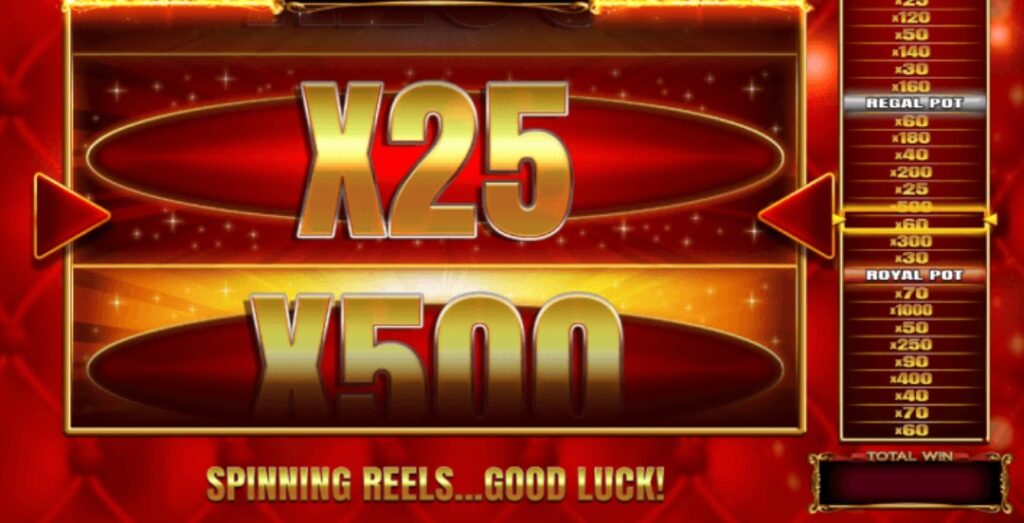 So you can get the Wheel King bonus game with a gold coin, but there is another way. When the entire playing field is filled with crowns, you also get access to the Wheel King bonus game.
During the Wheel King bonus game, you get 1 spin on 1 reel. Depending on what your spin lands on, you can win one of the Jackpot King jackpots or a multiplier of up to 1000x your stake.
Final verdict
As we have said before, Jackpot King Prize Lines is truly a unique slot machine. The luxurious design of this slot machine is quite simple but very effective. There is already plenty to do with the Jackpot King jackpots and the Prize Lines mechanism, so no extensive, impressive background or anything like that is necessary. There are not very many features and there is no free spins feature, but that does not mean that the game is boring.
Because of the unique way of playing you get the feeling that you are playing non-stop in a feature. There is, however, the danger that you will quickly be drawn into the excitement of the slot machine. The thought "Just a few more crowns and then I'm done!" comes often and therefore you are very quickly inclined to buy more and more spins.
Fortunately, there are options built into the system to put a limit on yourself. The potential winnings for Jackpot King Prize Lines are hard to pin down. The highest win that does not come from a jackpot is 1,000x your stake from the Wheel King feature. In addition, there is a win cap of 50,000x your stake or 250,000 euros, whichever comes first.
And to make things even more complicated, in April 2020 someone has won 8 million euros via the Jackpot King network. So all in all, it's hard to say a fixed maximum win, but the important thing to know is that you can win big playing Jackpot King Prize Lines. If we add it all up, Jackpot King Prize Lines is a very good slot machine with a unique way of playing.
If you do fancy a game of slots bingo, then you should definitely give this one a try! That's why Jackpot King Prize Lines gets 4 out of 5 stars from us.